STOTT PILATES® Continuing Education Workshops
STOTT PILATES® The Knee: Equipment Programming for Stability & Function
POST-REHABILITATION CONDITIONING Specialty Track
Sunday, June 14 from 10:00 AM – 12:00 PM
STOTT PILATES® CEC:  0.2  |  ACE® CEC:  0.2  |  PMA® CEC:  2.0
STOTT PILATES® Lumbo-Pelvic Region: Reformer Programming for Stability & Function
POST-REHABILITATION CONDITIONING Specialty Track
Sunday, June 14 from 12:30 PM – 2:30 PM
STOTT PILATES® CEC:  0.2  |  ACE® CEC:  0.2  |  PMA® CEC:  2.0
STOTT PILATES® The Shoulder Girdle: Reformer Programming for Stability & Function
POST-REHABILITATION CONDITIONING Specialty Track
Sunday, Jun 14 from 3:00 PM – 5:00 PM
STOTT PILATES® CEC:  0.2  |  ACE® CEC:  0.2  |  PMA® CEC:  2.0
STOTT PILATES® Certification Training Courses
Advanced Reformer – AR, Level 2:  
18 hours  |  Apr 17, 18: Fri, Sat 1:00 PM – 7:30 PM & Apr 19: Sun 9:00 AM – 3:30 PM
STOTT PILATES® Certification Exam 
Examination Preparation Review
Practical Exam Review:  A 'Mock' Practical Exam allows students to receive feedback of the performance and to discuss any areas for additional preparation.
Written  Exam Review:  A 'Mock' Written Exam allows students to review and discuss answers of the 'Mock' questions.
Reinstatement:  Complete private review hour(s) to reinstate eligibility to take the certification exam if the exam was not completed within (6) months upon completion of the last certification training course.  The reinstatement is valid for 60 days.
Examination Schedule:
e-mail:  edu@pillarinmotion.com

phone:  (619) 518-4659

Instructor:  Chau Pham-Kid, STOTT PILATES® Lead Instructor Trainer
KINETIC CHAIN® education is designed to complement all fitness science principles with all modalities of exercise. Available programs are:
KINETIC CHAIN® Training
Part A:  Functional Anatomy for Movements
Part B:  C.O.R.E. Principles & Movements
Part C:  KINETIC CHAIN Training in Motion App
KINETIC CHAIN® Suspension
C.O.R.E. Principles & Workout
KINETIC CHAIN® Sports Motion
C.O.R.E. Principles & Workout
Each program is a building block to understand and practice the science of movement. KINETIC CHAIN® education focuses on the patterns and sequences of movements of the body's components in relationship with the connection of the body's joints. The segmental interaction of the joints creates a kinetic chain in the body. The proper application and understanding of this joint to joint link will ultimately result in desired optimal movement.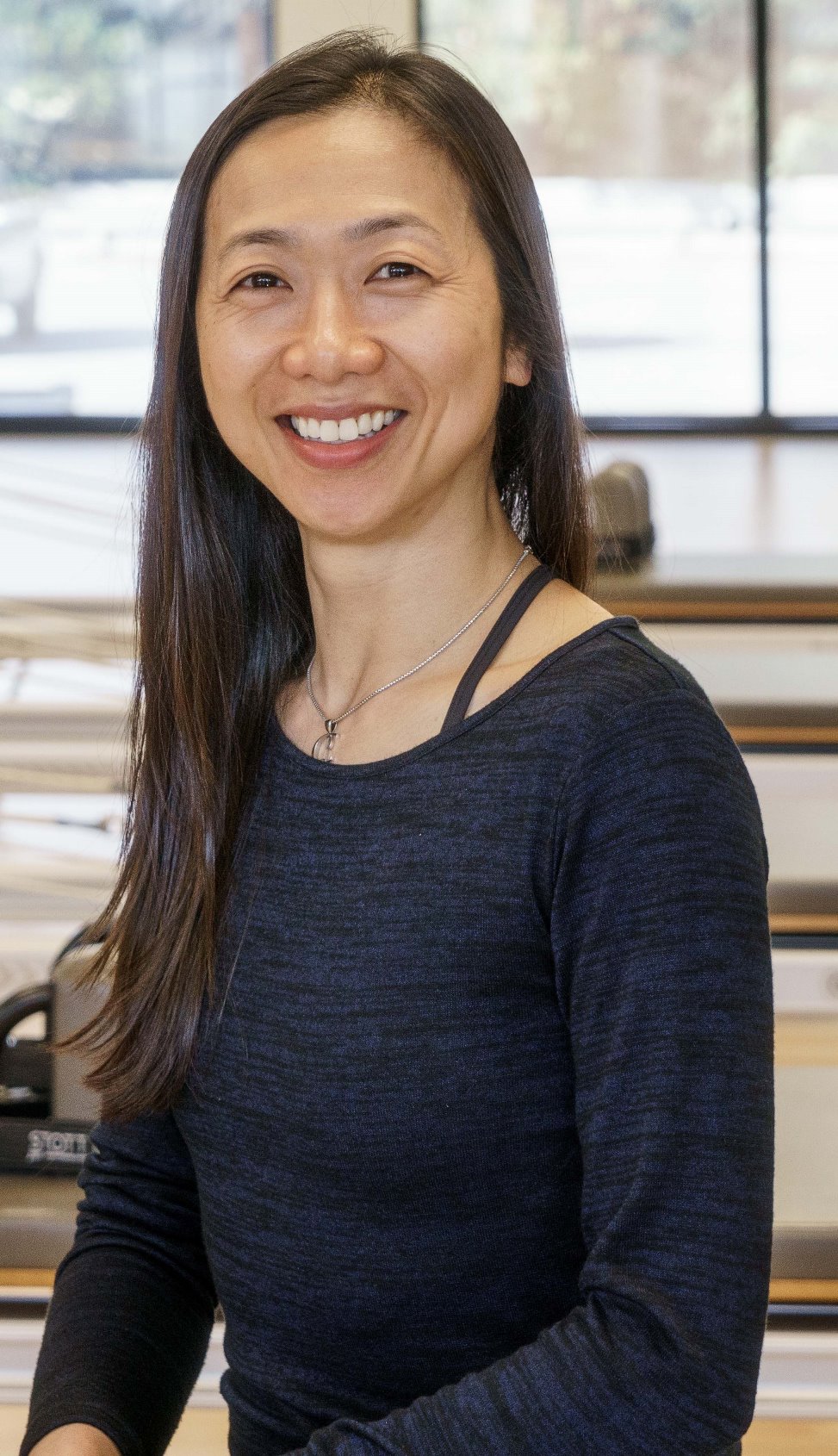 E-mail:  edu@pillarinmotion.com
Phone:  (619) 518-4659
Instructor:  Chau Pham-Kid, STOTT PILATES® Lead Instructor Trainer
Chau Pham-Kid
Chau advocates the concept that proper fitness training is a lifestyle investment for the present and the future. Through constant education development and experience, Chau continues to progress her unique skillset in the area of reconditioning clients for daily activities especially addressing concerns of musculoskeletal injuries, neurological disease, auto-immune disorder, Osteoporosis, Scoliosis, breast cancer, and pre-natal or post-natal.
While many clients seek her expertise for post rehabilitation and injury reduction, Chau's knowledge in biomechanics and neuromuscular anatomy are valued by fitness enthusiasts and competitive athletes at all levels in a variety of sports (figure skating, dance, football, tennis, golf and track). Chau has provided her services to Cirque du Solei – Amaluna Tour, Cirque du Solei – Alegria Tour and a World Champion Medalist and Olympic Games Sprinter. To date, Chau continues to work with a WTA professional tennis player, former ATP professional tennis player and former collegiate defensive tackle standout for Rice University.
Chau earned her Bachelor of Science and Master of Science degrees at the University of Tennessee in Knoxville. The primary focus of her studies was Human Factors, which she incorporates into the practical application of optimizing performance with movement into her instruction.
As an educator, Chau fulfilled education and instruction experience requirements to be a STOTT PILATES® Fully Certified Instructor Trainer in 2006. She was awarded the designation of a STOTT PILATES® Lead Instructor Trainer in 2014 for outstanding performance in education, mentorship and professional performance. Chau is also Nationally Certified Pilates Teacher (NCPT) through the Pilates Method Alliance. Chau takes tremendous pride in being instrumental to the growth and guidance of new and experienced instructors while sharing her experiences from instructing STOTT PILATES® education throughout North America, South America and Europe.
Join Chau in the city where she began her STOTT PILATES® education, instruction and career.
Encinitas, CA
1010 South Coast Highway 101 Ste #107
Encinitas, CA 92024
(760) 479-1944
Email: info@pillarinmotion.com