colleen
NAUS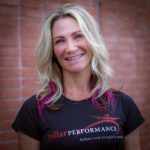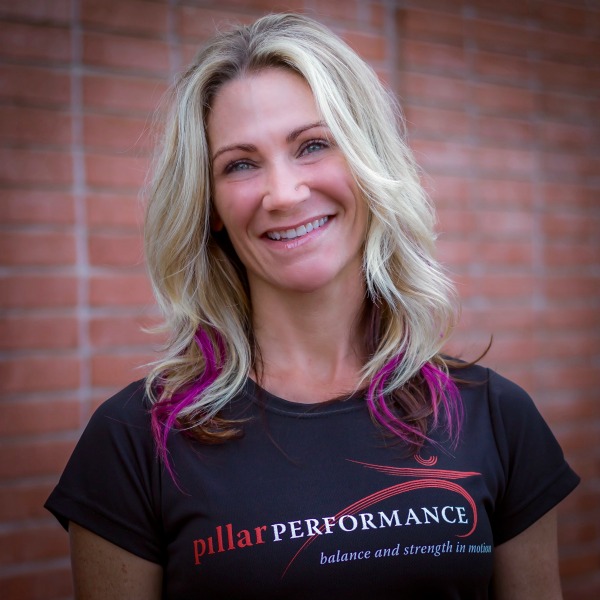 CERTIFICATIONS:
• Pilates Instructor, STOTT Advanced Level II
• Personal Trainer, National Academy of Sports Medicine (NASM)
• Corrective Exercise Specialist, NASM
• Functional Movement Screen, FMS Level II
• CPR & AED
TRAINING:
• Instructor Trainer Course (Cadillac, Chair & Barrels), Balanced Body University
Colleen's authentic love for movement and fitness began when she started her intensive dance career and strength training at age 16.  Colleen danced on scholarship at Interlochen Arts Academy, and Joe Tremaine Dance Center in L.A, performed with several professional companies, and won acclaim for her original choreography.  For over a decade she has integrated knowledge and skills from her 25-year background as an athlete, dancer/teacher/choreographer, Pilates instructor, and personal trainer to create programs that inspire people to reach beyond their own expectations.  Expect the best!
Colleen loves combining her Advanced Level STOTT Pilates training with her NASM Personal Training certification to create fun, highly personalized programs. An avid runner and daily mover, Colleen believes in "training for life"!  Her unique talent of a technical eye and intuition for analyzing body movement help her to identify and correct issues that have previously prevented clients from achieving their full potential.
Colleen is a co-owner of pillarPERFORMANCE. Her staff is first-rate, holding advanced level, nationally recognized certifications and she has the utmost confidence in the professionalism and abilities of her staff.
"There is no bad movement, just movement done badly" – CN 
---
jeremy 
PARK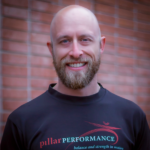 CERTIFICATIONS:
• B.A. Degree Athletic Training & Exercise Science – Point Loma Nazarene University
• Strength and Conditioning Specialist (CSCS)
• National Strength and Conditioning Association (NSCA)
TRAINING:
• Orthopedic and Physical Therapy Internships
• APEX Fitness
• Sport-Specific & Olympic Lift, USA Weightlifting
• Emergency Medical Technician I, National Registry
• Collegiate-Level Competitive Cross Country and Track Athlete
Jeremy Park is a Strength and Conditioning Specialist (CSCS) and co-owner of pillarPERFORMANCE.  Jeremy has been helping people reach their health and fitness goals since 2001. He took an early passion for athletics as an California All-State Division I Cross Country runner into University where he earned his bachelor's degree in Athletic Training and Exercise Science.
Mixing a passion for exercise with a deep desire to develop relationships with people and teach them how to achieve their goals, he earned the nation's top-ranking industry certification, the National Strength and Conditioning Association's Strength and Conditioning Specialist Certification in 2001 and began partnering with individuals on their health and fitness journeys.
In 2006, he partnered with Colleen Naus to open pillarPERFORMANCE, a unique facility in Encinitas, California with a much more holistic approach to conditioning. In 2017, they opened their second facility in Solana Beach, California.
"Every individual is uniquely created for value and capable of doing great things in their families, in their communities, and in this world. I love that I get to play a part in helping them achieve this!" – JP
---
jennifer
BELLENGER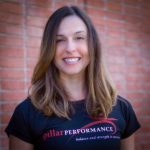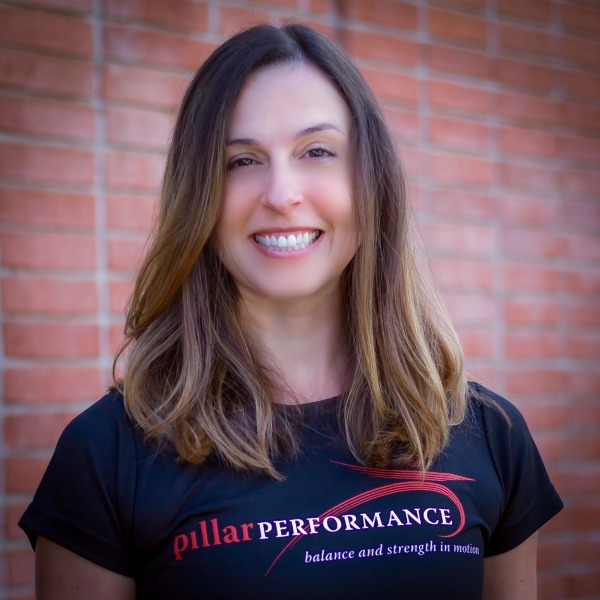 CERTIFICATIONS:
• Pilates Instructor, STOTT Advanced Level II
• Personal Trainer, American Council on Exercise (ACE)
• Personal Trainer, National University
• CPR & AED
TRAINING:
• Functional Movement Screen, FMS Level I & II
• Pilates for Injuries & Pathologies
• Unwinding Scoliosis with Pilates
Jen developed her passion for fitness and health at a young age as a competitive swimmer. Maintaining a healthy body and mind has always been a top priority, and led her to discover the benefits of Pilates after dealing with severe rotator cuff tendonitis from years of distance swimming.
She holds an Advanced Level STOTT Pilates certification and is an ACE certified personal trainer. This combination allows her the opportunity to create custom programs for all her clients based on their needs and goals whether it be weight loss, reducing chronic pain, or improving power and performance in endurance athletes. She embraces the idea of "prehab" as well as rehab; addressing issues within the body while building strength and proper alignment to help prevent future injuries.
"Take pride in how far you've come, have faith in how far you can go, but don't forget to enjoy the journey" – Anonymous
---
ingrid 
JOHNSON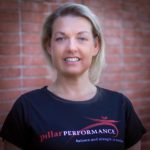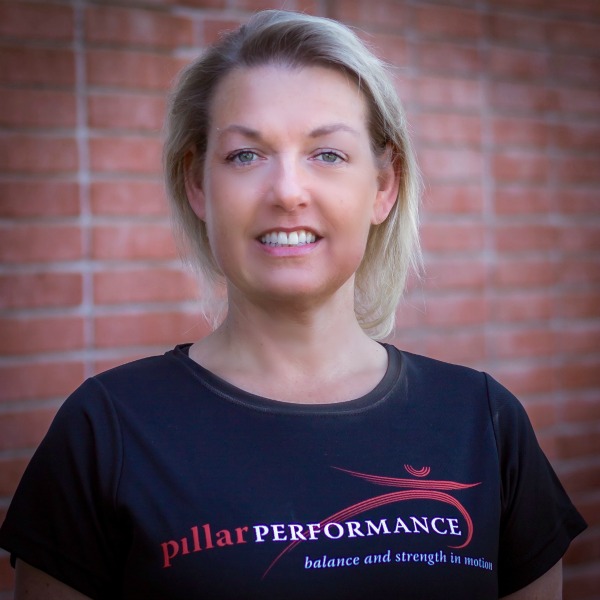 • Masters Degree in Exercise Science
CERTIFICATIONS:
• Personal Trainer, International Sports Science Association (ISSA)
• Pilates Instructor, STOTT Advanced Level II
• CHEK Practitioner Level 2
• CHEK Certified Golf Biomechanics Specialist
• CPR & AED
While attending the University of Michigan on a full piano scholarship, she fell in love with exercise and fitness. She earned her Master's Degree in Exercise Science at Oakland University. She went on to study Pilates with STOTT Pilates (2000), high-performance corrective exercise, and golf conditioning at the CHEK Institute in Encinitas (2001). She is also certified with ISSA as a personal trainer.
At the forefront of golf fitness, she has produced her own line of Golf Conditioning DVD's and her own weekly Golf Conditioning TV show.
In 2006, she moved to Encinitas to train exclusively at pillarPERFORMANCE. She also runs weekly Rock Steady Boxing for Parkinson's patients classes. She believes in staying on top of the latest research in exercise and fitness, so her workout design is of the highest scientific quality. She doesn't follow fitness fads, but rather uses proven techniques to bring results to her clients.
"As a classical pianist from Sweden, this is my approach to fitness…Think of your body as an instrument. Much like learning how to play an instrument, a physical training program needs a solid foundation, a logical progression, should value discipline and consistency, and include an appropriate repertoire of movements" – IJ
---
kirstin 
FENDER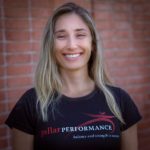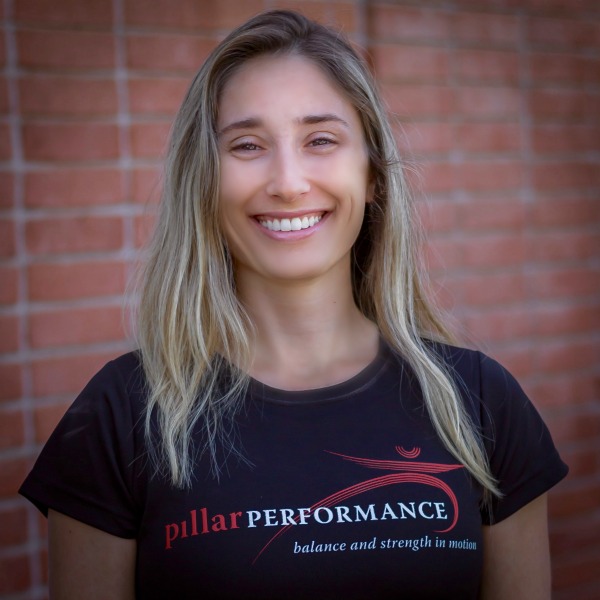 CERTIFICATIONS:
• Pilates Instructor, STOTT Advanced Level II
• Equestrian Pilates, Level lII
• Registered Dietitian Nutritionist
• Functional Movement Screen, FMS Level I
• CPR & AED
Kirstin Fender is the owner of The Fit Equestrian. Her passion for health and fitness is rooted in her athletic background and affinity for anything food related. She started riding horses at the age of 8 and it continues to remain a large part of her life. While she has successfully competed in the sport of eventing, it has taken a back seat secondary to her desire to improve rider health and fitness through EQUESTRIAN PILATES ® and nutrition counseling.
Although keen on working with riders, Kirstin enjoys anyone who is enthusiastic about enhancing their physical fitness and well-being. Her style is patient and supportive, yet challenging.
"Nourish your mind, body and soul with how you eat, think, speak and act." – KF
---
gifford 
KIRA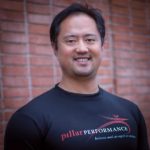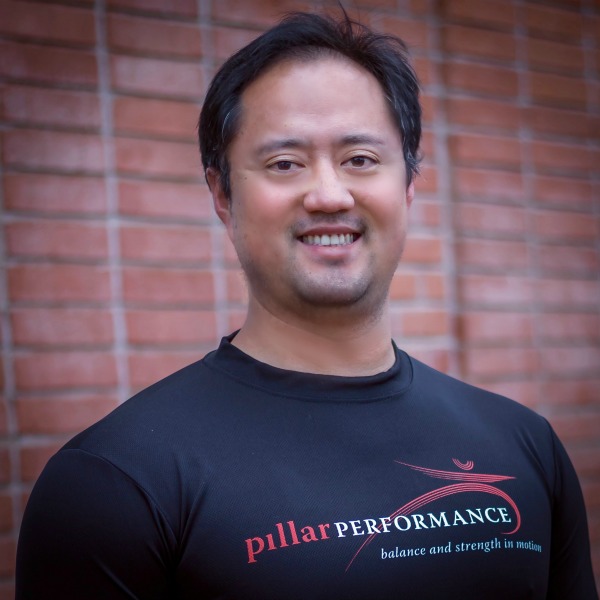 CERTIFICATIONS:
• B.A. Degree Exercise Biology and Psychology, UC Davis
• Personal Trainer, National Strength and Conditioning Association (NSCA)
• CrossFit Instructor, CrossFit Level I
• Kettlebell Instructor, RKC
• CPR & AED
Gifford has been involved in the study of human performance for almost ten years, earning a Bachelor of Arts degree in Exercise Biology and Psychology from the University of California Davis. While working as a personal trainer, he continued his education, earning NSCA-CPT, CrossFit I, and RKC certifications. Using his background as a youth soccer coach and numerous physical therapy internships, he is comfortable teaching proper functional movements to a variety of age ranges and various levels of fitness.
"Today you are You, that is truer than true. There is no one alive who is Youer than You." -Dr. Seuss
---
trish D

A

COSTA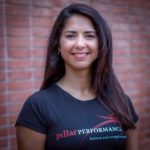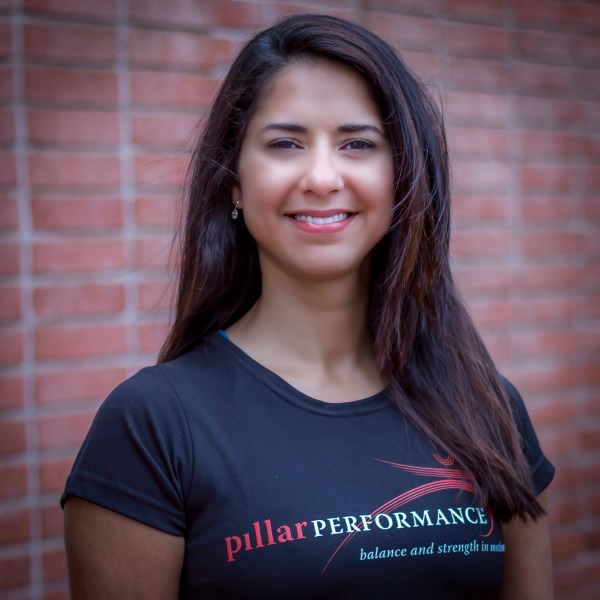 CERTIFICATIONS:
• Pilates Instructor, STOTT Level I
• Instructor, Monkey Bar Gymnasium Level I
• Group Fitness Instructor (GFI), American Council on Exercise (ACE)
• CPR & AED
Trish DaCosta is a Pilates instructor and Personal Trainer on a mission to boost her clients' performance and longevity in whatever athletic pursuit they love. She is trained in both classical and STOTT Pilates, studied under a Second Generation Master Pilates Trainer and holds several certifications from NASM, Spinning and ACE.
Trish also runs Barbell Pilates where she coaches strength and recreational athletes online how to integrate Pilates into their training to elevate their performance and master their bodies.
"Start by doing what's necessary; then do what's possible; and suddenly you are doing the impossible." – Francis of Assisi
---
melissa
CONDRON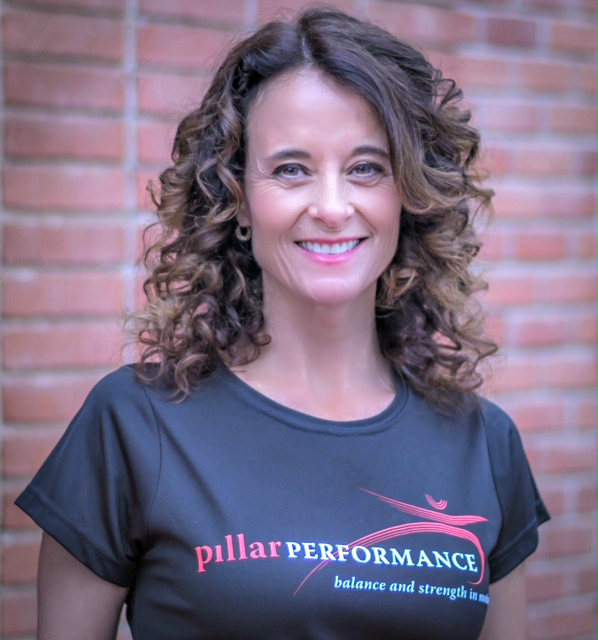 CERTIFICATIONS:
• Pilates Instructor, STOTT
• B.S. Degree Physical Therapy, Marquette University
• Pilates Instructor, STOTT Advanced Level II
• Rehab Certification, STOTT Pilates
• CORE Certification
• CPR & AED
Melissa Condron grew up studying classical ballet and loved the study of human body movement. She received her Physical Therapy degree from Marquette University in 1989. After many years working in orthopedics, Melissa developed and served as Director at the first full Pilates studio in the East San Francisco Bay area from 1999- 2017. In 2002, Melissa became an Instructor Trainer for STOTT PILATES and traveled nationally teaching all regular and rehab certifications until 2017. Her passion lies in helping each person recognize their potential and reach it. She also continues to enjoy teaching fellow pilates instructors about the newest research and empowering them to take their clients to the next level of fitness. Her years in physical therapy have taught her that injuries and age do not mean workouts need to be easier…just smarter. She is excited for her new adventure in SoCal and joining the pillar team.
" Every moment of our life can be the beginning of great things" – Joseph Pilates

---
raquel 
ROBLES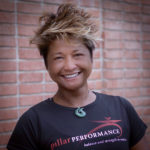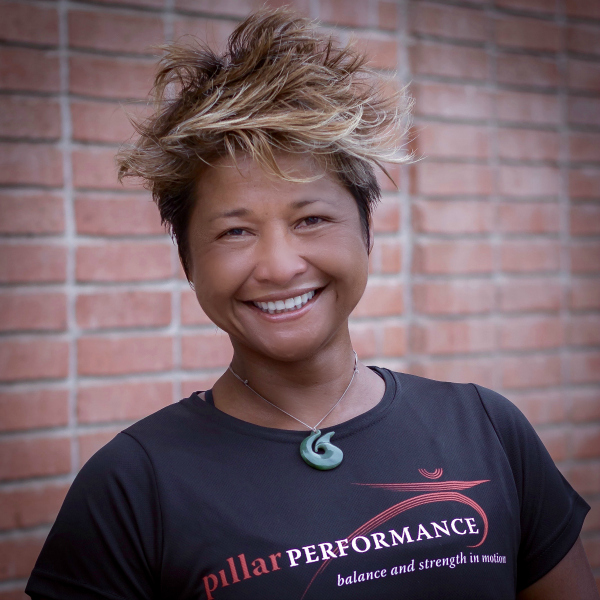 CERTIFICATIONS:
• CHEK Practitioner
• BioStructural Correction Practitioner
• Corrective Exercise Practitioner
• Health and Wellness Coach
• CPR & AED
Raquel (aka Rocky) has always been fascinated with the body for as long as she can remember. She loves how the body constantly changes especially throughout our lifetime. Being in alignment, structurally, spiritually, nutritionally, emotionally is crucial to longevity and vitality. Her approach to each client is tailored to each individual based on where they are at. She looks at the entire body system not just how you look physically, but inside out.
She has worked with clients helping them correct their posture, alignment, mobility, strength conditioning, and nutrition/immune system. She continues to apply the knowledge she has learned and loves learning on a daily basis. She loves what she do and do what she loves. Outside of work, she spends her time in nature, from the ocean to the mountains.
"Life is meant to be fun. Simplify, Smile, Love, Laugh at yourself often, it is healthy!" – RR
---
donna 
PARSONS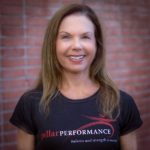 CERTIFICATIONS:
• Pilates Instructor, West Coast Pilates
• Pilates Instructor, STOTT Full Comprehensive
• CPR & AED
TRAINING:
• Instructor Trainer, STOTT Pilates
• Instructor Trainer, Balanced Body University
Donna Parsons has been teaching Pilates for the past 17 years. Her Pilates certifications include West Coast Pilates under the direction of Kathy Corey and Full Stott Comprehensive certification. She is also a former Instructor Trainer for Stott Pilates and Instructor Trainer for Balanced Body University.
She is a graduate of United States International University School of Performing and Visual Arts where she studied and performed with former Royal Ballet artistic director John Hart and master teacher Erling Sunde. Her dance career has taken her from ballet to modern dance to jazz performance and teaching in San Diego, San Francisco, New England, Canada and the UK. Her professional teaching experience includes directing two ballet schools in Connecticut and advising and teaching dance at Yale University. Her current interests include the study of Dynamic Contraction Technique resistance stretching, ballroom dance and mountain biking.
---
susie 
WALOCH- LEISTEN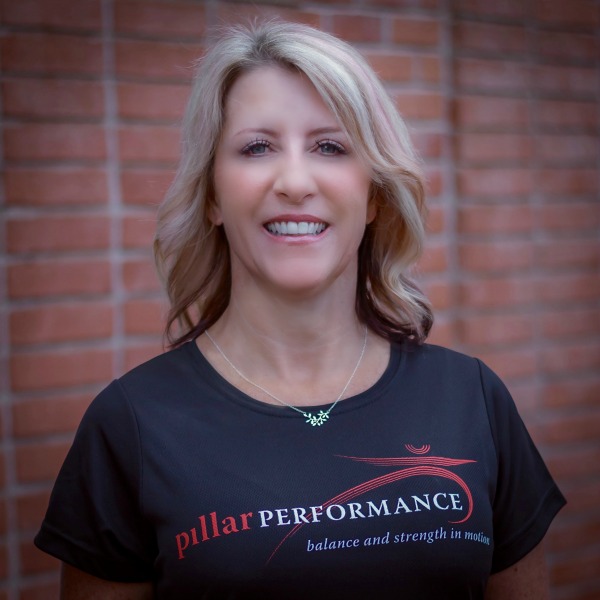 CERTIFICATIONS:
• Personal Trainer, Athletics and Fitness Association of America (AFAA)
• Group Exercise Instructor, AFAA
• Mat Pilates Instructor, Power Pilates
• Cycling Instructor, Schwinn & Mad Dogg
• TRX Instructor
• CPR & AED
Susie Waloch Leisten was born and raised in southern California. Her interest in fitness started in high school when her mother became a group exercise instructor. After graduating from Vista High School in 1979, Susie took the appropriate training to also become a group exercise instructor. Her love of dance and exercise continued to grow, and she then took the necessary steps to become a certified personal trainer.
The joy Susie gets from working with students in her classes and one on one with her clients is undeniable. Susie especially enjoys working with the more mature adults whose needs include balance, bone density and overall strength so they can live their lives to the fullest.
"People will forget what you said, people will forget what you did, but people will never forget how you made them feel." – Maya Angelou
---
richelle 
SANT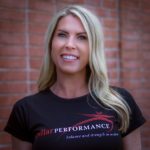 CERTIFICATIONS:
• Pilates Instructor, Apparatus and Mat, BASI
• Prenatal & Postnatal Pilates Instructor, Knocked-Up Fitness
• CPR & AED
TRAININGS:
• The Avalon F2 System Training, BASI
• Apprentice, BASI
Richelle, a Certified BASI Pilates Instructor, couples her zest for athletics, dance and wellbeing with an authentic, positive and intuitive approach to her clients' fitness. Integrating proper form and function, she is able to motivate clients to attain their full potential. Continually seeking balance as a working mom, Richelle brings an awareness of balance to her clients through pushing their self-limits while still honoring their body's current abilities. She is deeply passionate about Pilates with an array of knowledge to share from self-rehabbing her deep core after an intensive pregnancy, shoulder bursitis and impingement injury.
Currently, Richelle's clientele consists of men and women of all ages focusing on overall fitness, postural alignment, healthy movement patterns, increasing strength, flexibility and agility, injury recoveries and stress management. It is her dominant intention to be a source of connection and create vibrant energy and healing in her clients' lives.
"Our deepest fear is not that we are inadequate. Our deepest fear is that we are powerful beyond measure…" – Marianne Williamson
---
justin
McPHAIL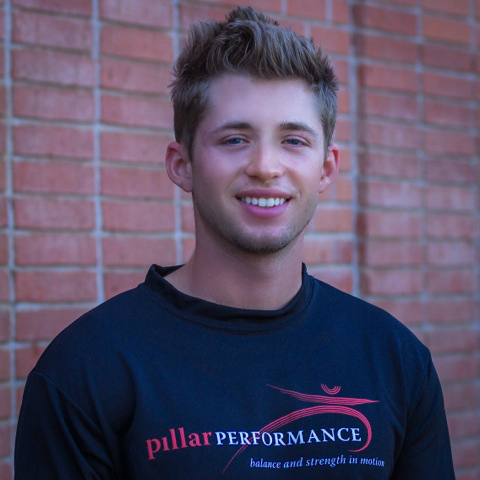 CERTIFICATIONS:
• CPR & AED
TRAININGS:
•
"Nourish your mind, body and soul with how you eat, think, speak and act." – KF
---